Reduction of Hazardous Substances Impact to Support Worker Safety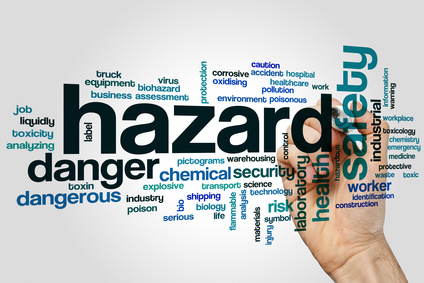 Combating the Dangers of Chemical Hazards and Toxic Substances
Industrial environments carry the inherent risks of workplace injuries. Although many industrial organizations focus on eliminating or reducing hazards that can cause trips, falls, and injuries due to machinery, often overlooked is the reduction of hazardous substances exposure.
Some common industrial environment hazardous substances include:
Acids
Disinfectants
Heavy metals
Paints and glue
Solvents
Pesticides
Airborne irritants (dust, fumes, etc.)
Prolonged exposure to hazardous substances can lead to long-term health effects. Even short-term exposure to some substances can have significant and even fatal results. The degree of damage depends on the level of exposure including the concentration of the hazardous substance and the duration of exposure. Hazardous substances exposure can occur through inhalation, ingestion, contact with skin and/or eyes, or absorption through open wound. Some potential health effects of hazardous substance exposure include:
Chemical burns and skin rashes
Nauseas, vomiting and headache
Health disorders including lung, kidney, liver or nervous system
Birth defects
Tools and Supplies to Reduce the Risk of Hazardous Materials
Manufacturers of hazardous materials are required to include warning labels and Material Safety Data Sheets (MSDS) which provide information about exposure-related health effects, precautions to take when using, safe storage and handling instructions, and first aid instructions. In addition, the Globally Harmonized System of Classification and Labelling of Chemicals (GHS) provides a worldwide consistent approach to communicate hazardous material information including pictograms, signal words, and hazard and precautionary statements. However, it is up to the users – both management teams and workers – to ensure they understand the types of hazardous substances being used and how to protect workers from short or long-term injuries.
It is ideal to focus on the reduction of hazardous substances exposure; this would take the tact of elimination or substitution of the hazardous substance. However, particularly in industrial environments, that may not be realistic.
The Canadian Centre for Occupational Health and Safety (CCOHS) provides direction on how workplaces can control hazards and reduce the risk of workplace injuries through OSH Answers Fact Sheets. OSH Answers Hazard Control Fact Sheet provides crucial information on reducing risk from hazardous substances exposure including:
Implementing hazard control programs
Ways to control hazards
Elimination/substitution of hazardous materials
Engineered and administrative controls to combat effects of hazardous substances
Health and safety personal protective equipment (PPE) to provide a level of protection for the wearer
Personal Protective Equipment (PPE) to Guard Workers from Hazardous Substances
Personal Protective Equipment (PPE) is designed to safeguard workers health. It provides a protective barrier between the worker and the chemical. It is crucial to select the appropriate industrial protective equipment for the hazards the worker is being exposed to. PPE is rated for different types and level of hazardous material exposure. For example, in some cases, lightweight, breathable disposable coveralls may be adequate protection; in more extreme environments, hazmat suits are needed. It is crucial that industrial protective equipment meet CSA compliance for the type of hazardous material exposure.
Eye protection is another type of PPE that protects the user from hazardous substances like liquids and gases entering the workers' eyes. Again, the level and type of risk will determine whether basic goggles or full-face shields are necessary.
To find out more about choosing the right health and safety supplies / PPE, read our recent blog post: Improve Working Conditions with the Right Health and Safety Equipment.
Workers' hands are particularly at risk due to the high potential skin contact while handling hazardous chemicals. Safety gloves are offered in many types of materials and coatings including: Nitrile, Latex, Butyl, Neoprene, PVC, Rubber, leather, disposable, Kevlar, and more. Glove selection should combine assessment of the specific hazards/job tasks. Some gloves are suited to protect against cuts and impact, while others are designed to protect against chemical exposure and contact.
To find out more about choosing the right gloves to safeguard your workers from hazardous substances, read our recent blog posts:

Understanding Worker Safety Complexities Can Help Keep Your Employees Safe
This comprehensive guide was created for organizations to create and promote workplace safety for their most valuable resource: their workers. Get your Guide to Improving Worker Safety Now!