8 Tips to Workplace Safety Compliance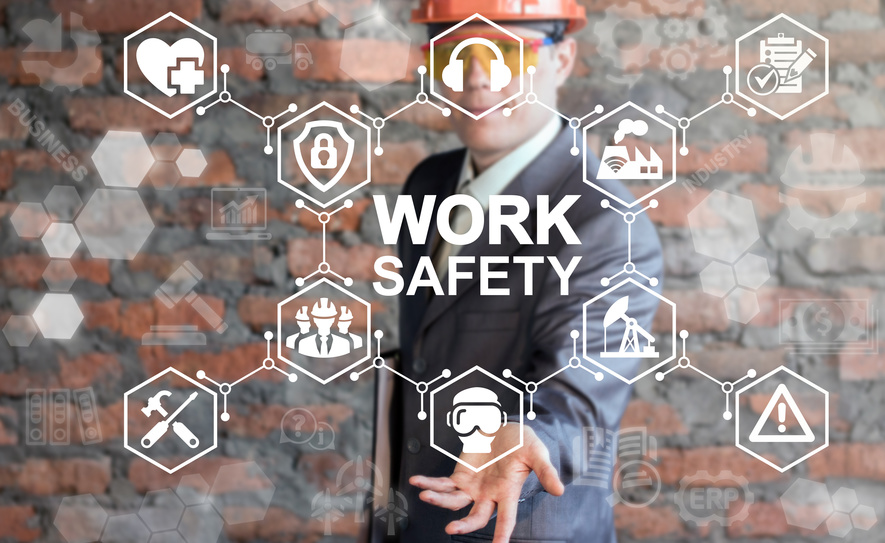 Safety Tips All Employers and Employees Should Know
All employers know that workplace safety is important for their organization. Injuries to workers can mean losing your workers – short or long-term – which results in reduced worker productivity and employee morale. It can also result in increased employee turnover and business disruption. There are obvious costs like medical expenses but many employers underestimate the sizable impact of indirect worker injury costs.
So, what are the real costs of worker injuries?
Lost productivity including production time and cleanup/restart of operations
Cost of injured employee's salary and compensation
Hiring and training to replace injured employee – temporarily or long-term
Reduced employee morale and subsequent loss of productivity from other employees
Administrative costs of documenting accident and managing aftermath
Penalties and fines
Increased insurance rates
Costs for repair and/or replacement of involved equipment and/or supplies
Damage to company reputation
8 Tips to Improve Worker Safety
Know your workplace – For employees, familiarizing yourself with your workplace allows you to be more aware of potential hazards. Employers should ensure that employees are given a safety tour of the working environment with special focus on identifying potential hazards. It is especially important to know the locations of emergency exits and muster points.
Employers and employees should work together – Both employers/management teams and workers have responsibilities to ensure the safety of all employees. One critical step is to form a joint health and safety committee to make recommendations and ensure overall improvements in health and safety across the organization.
Institute hazard and incident reporting – By implementing a formal hazard and incident reporting system, employees are encouraged to participate in improvements across the organization. By analyzing data, the organization can make better decisions about how to allocate resources to improve the working environment and keep workers safe.
Understand the most common hazards – Although every environment is different, the most common hazards in industrial environments are lifting, fatigue, dehydration, hazardous materials and slips, trips and falls. By understanding which hazards are impacting your environment the most, your organization can focus resources in the right place – whether it is ergonomic casters, allowing more time for breaks, rehydration drinks, personal protective equipment, or preventative maintenance.
Proper use and maintenance of equipment and supplies – Reliable and well-maintained equipment and supplies are crucial to worker safety. Regularly scheduled maintenance and daily checks are important to ensure everything is in good working order. Ensuring the correct supplies and equipment are being used is also critical. There should also be a reporting and replacement process in place to allow employees to report problems with equipment or supplies. This process would also quickly solve the issue by having replacements in place to ensure both worker safety and reduced production downtime.
Employee training – Employers should establish health and safety goals and provide resources and training to meet these goals. Part of this plan should be to create an open communication plan supported by a health and safety-focused culture. Safety training should be general and specific depending on the hazards that the specific employee will likely encounter. Safety training should be conducted regularly, and hazard and safety signage and instructions should be strategically placed to give workers constant access.
Institute regular workplace inspections – By regularly inspecting work spaces, hazards can be uncovered and minimized before and accident happens. This includes shop floors, offices and even storage rooms. With regular inspections, workers are more apt to maintain a tidy and safer work environment. If the inspection reveals an ongoing hazard that continuously crops up, a solution can be put in place to alleviate the risk.
Follow safety compliance regulations – Research and document safety compliance regulations that are applicable to your organization. Some places to start: Canadian Centre for Occupational Health and Safety (CCOHS), Workplace Hazardous Materials Information System (WHMIS), and the Ministry of Labour. Ensuring strict safety compliance can not only keep your employees safe but can also protect your organization from accountability and financial consequences if an employee is injured through no fault of the company.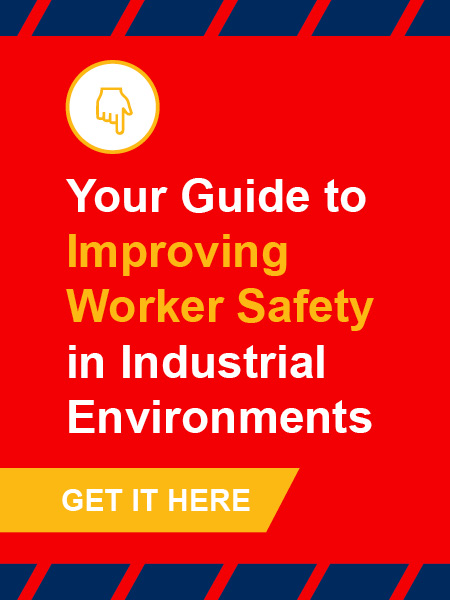 Employees are a company's most valuable resource, so it is important to focus on safety compliance. Organizations want to keep their employees safe and healthy. In an industrial environment, it is particularly crucial as risks of workplace injuries are high and impact to the injured worker, their family, and the organization can be costly – both emotionally and financially.
Be one of the first to get your hands on our new Guide to Improving Worker Safety in Industrial Environments.
This comprehensive 13-page guide will provide you with critical insight into worker safety, safety programs and safety products.